Today I want to share my guide to the best pubs in Victoria, London with you. I used to live in this part of the city, and there are some great watering holes dotted throughout the area. From small ones tucked away on side streets to famous pubs near Victoria Station, there are a lot to choose from. I hope you like them as much as I do.
Pubs in Victoria, London
One of the best things about pubs in Victoria is that so many of them are hidden away out of sight of the crowds around the train station and Buckingham Palace. If you know where to look, you can easily find local gems.
There are pubs for every taste and occasion, too. From classic boozers to modern gastropubs, you're sure to find one that fits your style and preferences.
If you want to avoid the pubs in Victoria station and the touristy ones around it, these are great alternatives.
1. The Albert Pub, Victoria
I'll start my list of the best pubs in Victoria, London with The Albert. Right on the border of Victoria and Westminster, this eye-catching Grade II-listed pub on Victoria Street is one of the most famous in the area.
This is partly because its 19th-century facade stands out in the sea of modern buildings around it. It's also due to the fact that it has a historic interior with hand-cut windows, gas lighting, and original ceilings.
Add to that a Parliamentary Division Bell that recalls MPs to the Palace of Westminster, and there's a lot to love about this pub.
2. The Cask & Glass
No list of of pubs in Victoria would be complete without a mention of The Cask & Glass. This pint-size spot is said to be one of the smallest pubs in central London, and after work the crowd spills out into the street.
If you can squeeze inside, The Cask & Glass has a historic interior with photos of Victoria Station and other bits of local history.
This is one of my favorite Victoria pubs because it's tucked away on a side street and only locals know about it. Despite being around the corner from Buckingham Palace, it manages to fly under the radar.
A Shepherd Neame pub, it's also a good place to enjoy ales from the oldest brewer in Britain.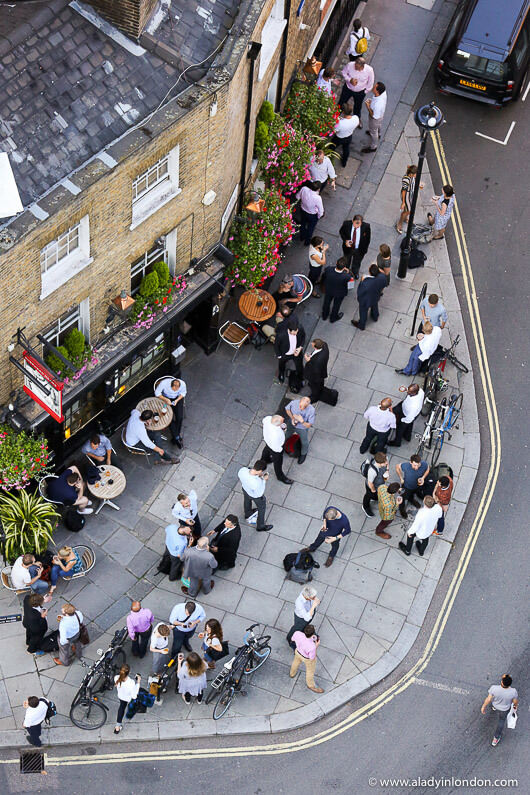 3. The Colonies Pub, Victoria
Next on my list of pubs in Victoria is The Colonies. This is one of the best Greene King pubs in Victoria. It's also popular with those looking for outdoor space, as it has a great secret garden in the back.
The Colonies pub is popular with the after-work crowd, and it's a fun place to get into the local atmosphere. It has a menu packed with pub favorites and British classics, and lots of traditional English drinks like cask ales.
This pub also offers low ABV and non-alcoholic drinks as well as vegan dishes, so it's great if you want a true British experience with a twist.
4. The Jugged Hare
The Jugged Hare is another of the most popular pubs in Victoria. Set in a former 19th-century bank, this pub has stone columns out front and high ceilings inside. The mezzanine features wrought-iron details, and there's a terrace out back.
A Fuller's pub, The Jugged Hare is known for its pies and cask-conditioned ales, which are locally brewed at the Fuller's Griffin Brewery in London's Chiswick.
This pub also stays true to its name, serving a Jugged Hare Pie with celery, carrots, and onions in a gravy of port and redcurrant.
5. The Phoenix Pub
Last on my list of pubs in Victoria is The Phoenix. This traditional London pub is right next to a theater, making it an ideal place to go before or after a show. It's also a favorite with the local office crowd, so it has a fun atmosphere during the early evenings.
I've enjoyed many a meal at The Phoenix pub, from fish and chips to pies and other classic English dishes.
The Phoenix also has a glassed-in roof terrace on the first floor and an outdoor space on the ground floor.
Best Pubs in Victoria, London
I hope you've enjoyed reading this list of the best pubs in Victoria, London. There are more great pubs near Victoria, too.
From the Thomas Cubitt in Belgravia to The Windsor Castle in Westminster and The Queens Arms and CASK Pub & Kitchen in Pimlico, you have a lot of options.
If you want more, I've written about the prettiest pubs in London, an itinerary for pubs in central London, pubs with beer gardens in London, and riverside pubs in London. I hope they help you find the perfect place for you.
Find this post helpful? Buy me a coffee!
New here? Join thousands of others and subscribe to the A Lady in London blog via email.
Pin it!