I've been visiting Glasgow my whole life. Having a Glaswegian grandmother meant my first trip outside the U.S. was to Scotland, and ensured that I've dipped in and out ever since. But for some reason I'm always doing just that: dipping in and out. One day here, one day there, and I never see enough. Which makes me all the more excited that I've finally booked 3 days in Glasgow to experience the city properly.
Day 1 in Glasgow
After checking into my hotel in Glasgow, I start my first day in Glasgow with a trip to one of the city's most famous museums.
The Kelvingrove Art Gallery and Museum is not only housed in a beautiful historic building, but also contains a wealth of Scottish art and design by the likes of the Glasgow Boys, Charles Rennie Mackintosh, and the Scottish Colourists.
Their work gives me perspective on the city's history and culture, and makes me excited to get out and explore Glasgow.
From the Kelvingrove I walk up to the West End with my boyfriend, who's traveling in Scotland with me, to visit the Glasgow Botanic Gardens.
The tulips paint the grounds with brilliant hues and the glass conservatories reveal exotic ferns and tropical plants as we go.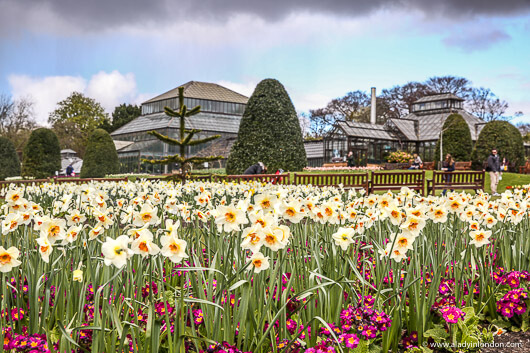 Afterwards we meander down busy Byres Road for lunch at Hanoi Bike Shop, a little restaurant tucked away off the main street in a mix of independent stores.
Inside, it's like we've traveled to Vietnam, the air thick with scents of fresh cilantro and crunchy banh mi.
From there we walk down to the River Clyde and up to the city center. Along the way we pass by the Riverside Museum with its Zaha Hadid-designed sinuous curves.
Next to it the historic Tall Ship at Riverside sits stately on the water, welcoming visitors interested in learning about Glasgow's rich shipbuilding history.
Once in the city center, we stop at the famous Willow Tea Rooms, taking in architect Charles Rennie Mackintosh's interiors over a cuppa.
He put Glasgow on the map in the late 19th and early 20th centuries with unique and beautiful designs that still endure today.
Leaving the Willow Tea Rooms, we head over to Merchant City. George Square is the heart of Glasgow, with its impressive Victorian buildings and statues paying homage to Scottish greats.
Nearby we come to the Glasgow Cathedral and adjacent Necropolis, where more of the city's Victorian charm lies.
Monumental tombs, graves, and mausoleums vie for the title of Greatest Display of Narcissism, a tribute to the city's 19th-century industrial heyday when wealthy merchants weren't afraid to pay homage to their own riches.
The sun setting, we continue the first of our 3 days in Glasgow by walking back into Merchant City and catching a cab to the West End.
There we squeeze into the Wee Pub at the Chip on the celebrated nightlife alley that is Ashton Lane. It's as tiny as the name suggests (it's the smallest pub in Scotland), and also as sweet.
Dinner is around the corner at the iconic Ubiquitous Chip restaurant. The dining room feels like a narrow greenhouse, what with the plants, fountains, and glass roof, and the food is as good as it's reputed to be.
We linger over dinner, mentally retracing the ground we've covered in a big first day in Glasgow and planning day two as we go.
Day 2 in Glasgow
The second of our 3 days in Glasgow is as busy as our first. We start by stumbling upon breakfast at a sweet little cafe called Singl End in Garnethill. With its bright blue metal chairs and breakfasts that come in skillets, it's a winner.
Afterwards we're off on a tour of Mackintosh's Glasgow with the Glasgow School of Art. It takes us all over the city center.
We see the work of Charles Rennie Mackintosh and his contemporaries and learn about the various architectural styles that were popular at the turn of the 20th century—some of them pretty flamboyant!
After the tour we walk over to the University of Glasgow, stopping for lunch at a cool cafe called Sonny & Vito's for salads and tarts on the way.
Once at the university we visit the Hunterian Museum, which along with the Kelvingrove is one of Glasgow's most famous cultural institutions.
The highlight is the museum's art gallery, where we see more work from the Scottish Colourists and a collection of paintings by James Abbott McNeill Whistler.
The interiors of Mackintosh's home are also on display, and are part of an amazing collection of his work.
Leaving the Hunterian, we continue the second of our 3 days in Glasgow by traveling to Finnieston for a drink with local friends at Porter & Rye. The area is Glasgow's trendiest, and there are lots of great bars and restaurants here.
After drinks, we have dinner over the road at Crabshakk. This seafood place is redolent of buttery langoustines and flavorful bisque. It's the perfect end to another great day in Glasgow.
Day 3 in Glasgow
The last of our 3 days in Glasgow starts early with another Glasgow School of Art tour. This one focuses on creative Glasgow and the modern and contemporary art and architecture scene in the city.
We duck into cool spaces like the Centre for Contemporary Arts and explore the galleries south of George Square, learning about the city's more recent artistic and design trends as we go.
After the tour we hop in a taxi for lunch at Two Fat Ladies at The Buttery, another Glasgow institution. Cocooned in wood and tartan, we enjoy a seafood lunch to the sounds of classic crooners.
Lunch finished, we head out of the city center to Shawlands, an area popular with locals in Glasgow. There we find ourselves at a quirky coffee shop called Glad Cafe.
It's a nice introduction to a less visited part of the city, and a good way to end our long weekend in Glasgow.
3 Days in Glasgow
As we leave Scotland, I realize that while I thought 3 days in Glasgow would be sufficient to see the city, it was only enough to show me how much more there is to discover.
But rather than disappoint, it makes me excited to return and see what else Glasgow can reveal. Even if my family connections couldn't draw me back, the city itself would.
Have you been to Glasgow? What are your favorite places in the city?
Find this post helpful? Buy me a coffee!
New here? Join thousands of others and subscribe to the A Lady in London blog via email.
One of the links in this blog post is an affiliate link. At no cost to you, I earn a small commission when you click on it and make a purchase. It doesn't affect the way you shop, and it's a great way to support the A Lady in London blog.
Pin it!